Please download and use the Planet Tracker Shareholder Engagement Sheet: Why Corporates Need a Head of Traceability
There is a new acronym in town and it's HoT
If you are looking for a job where compensation can be linked to your impact, consider becoming Head of Traceability (HoT), especially at a nature-dependent company.
Here is why:
Under pressure from regulators1, investors2 and consumers, nature-dependent companies in particular need to substantiate their sustainable claims. This cannot be achieved without traceability.
Traceability is cross-functional, covering sustainability, IT, product development, sourcing, legal, logistics and marketing: it needs a dedicated person to oversee all of these. Instead, traceability is often the remit of sustainability departments, who have limited leverage over sourcing and logistics staff, raising the risk of

traceability-washing

(when companies' claims on traceability cannot adequately be traced to real initiatives). Or it is siloed in sourcing, logistics, or IT departments, potentially without considering sustainability issues.
Traceability allows companies to save costs and reduce risks (through increased efficiencies, reduced waste and recalls mostly): in textiles, we calculated that it would

increase net profits by 3-7%.

In seafood, we estimated that the whole industry's meagre profits could

rise by 60%

if it became fully traceable.
This makes HoT an attractive job where performance means a simultaneously positive impact on the company's bottom line and a reduced negative impact on nature is feasible. Crucially, that performance can be measured and traced. It should therefore form part of the remuneration package of any HoT. Indexing remuneration on sustainability performance is badly needed, but proposals to do so

typically fall short

.
Being in charge of traceability is likely to be a challenging job: senior managers typically expect traceability to generate a variety of different outcomes – see Figure 1.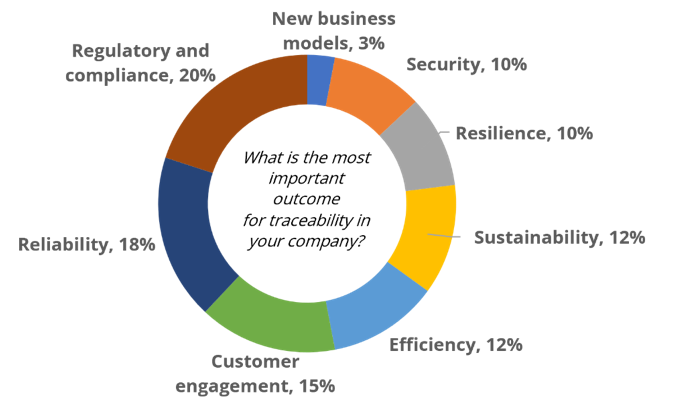 Figure 1: Companies' top goals for traceability initiatives (Source: Bain, 2021)
Planet Tracker did not find enough HoT jobs
We have searched for all companies which have appointed a Head of Traceability (or equivalent title) on LinkedIn and performed a simple search on Google too. Our results are incomplete since "only" 25-30% of the global workforce is on LinkedIn,3, 4 the search was made in English only, and we might have omitted synonyms/equivalent titles. Still, we believe the results are noteworthy.
We found only 18 companies with a Head of Traceability – excluding companies whose business is to sell traceability solutions and government agencies. By comparison, there are at least 10,000 Heads of Sustainability on LinkedIn.5
One of the possible reasons why HoTs are a rare species could be that it exposes management to more searching questions from financial institutions. Access to a HoT, who has extensive reach and understanding of a company's operations, could provide investors and lenders with significant insights. They should be very much in demand by the financial markets. Presently, the information asymmetry between management teams and their stakeholders is skewed in favour of the former.6 Please see 'Implementing Traceability; Seeing Through Excuses'.
Companies with a HoT are engaged in a variety of sectors exposed to recognisable sustainability challenges – e.g. palm oil, textiles, tuna, leather, fertiliser, waste management. They are headquartered in 16 different countries on all continents, except South America. Three quarters of them operate in the food or textile industries – see Table 1. The absence of companies engaged in plastic production or meat production is noteworthy.
Table 1: List of companies with a Head of Traceability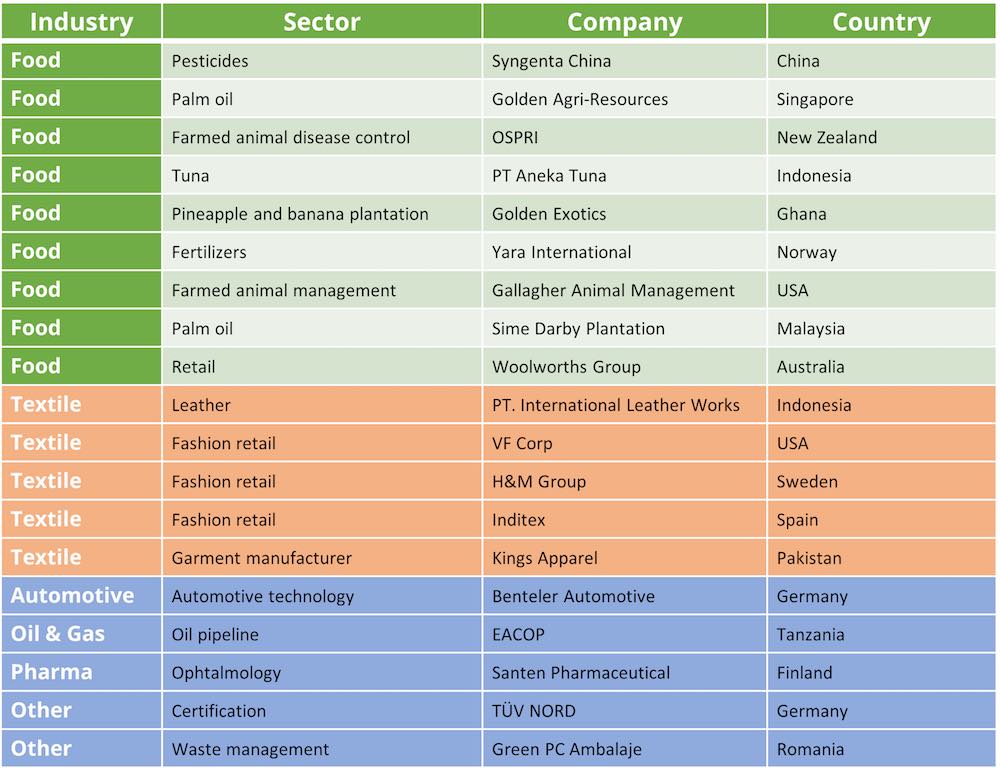 Whilst large textiles companies such as H&M Group and Inditex have a Head of Traceability, many large food companies typically do not. This is concerning since a lack of oversight on traceability within a company is likely to elevate their risk profile and impede their success.
Achieving traceability in food systems is a key requirement that could increase overall food system profits by USD 356 billion or more and is key to transforming this global system. Please see the Financial Markets Roadmap for Transforming the Global Food System. Planet Tracker's work on the seafood system alone suggested that companies that implemented fully traceable supply chains could see profits increase by 60%. Please see 'How to Trace USD 600 billion'.
In many cases, the companies in our sample have a Head of Traceability with an IT background: traceability is viewed as a digitalisation issue. In others, they have a supply chain/logistic background. In a minority of cases, the responsibility for traceability is assumed by the Head of Sustainability.
Why HoTs will be hot
Presently, there are not many Heads of Traceability in place – if we have missed one at your company, please get in touch – but we believe this will change, for a number of reasons listed here, the most important being regulation.
Already the key expected outcome for traceability is compliance with regulation and likely to become more important given the number of new laws that will require traceability to be implemented. For instance, the EU deforestation regulation, the FDA's increased traceability requirements in the US, EU Green Claims Directive proposal and the EU's Corporate Sustainability Reporting Directive (CSRD), which passed in January 2023.
For this reason, the urgent implementation of traceability systems overseen by a Head of Traceability or an equivalent cross functional person, is key in our view. Financial institutions should be engaging with company executives and enquiring where the traceability function sits within their management structure.
Note: this blog was inspired by this article in Vogue Business. Credit goes to Bella Webb for raising awareness on the need for Heads of Traceability.
1 European Commission – Green Claims
2 Taskforce on Nature-related Financial Disclosures
3 Statista – Global employment figures (1991-2022)
4 About LinkedIn
5 LinkedIn Sales Navigator
6 Tamed Transparency: How Information Disclosure under the Global Reporting Initiative Fails to Empower – Global Environmental Politics (August 2010)