Second-hand IPOs – The Slow Down of Fast Fashion
Textiles, Financial Risk & Reward, Equity
Image: LightRocket via Getty Images
Apparel rotation, not accumulation
Buying second-hand is nothing new. From thrift shops to car boot sales, the options for people looking to capitalise on turning possessions into cash are littered throughout history.
But second-hand fashion is having a moment in the Western economies. Since Green Strategy and H&M defined the concept of "Circular Fashion" in 2014,[i] and the publication of the report "A New Textiles Economy" by the Ellen McArthur Foundation in 2017,[ii] the role of a robust second-hand market to increase the useful lifetime of clothing has become a central tenet of circular fashion.
In fact, the resale market (also known as re-commerce, consignment or pre-loved), is one of the expected high growth sectors over the next decade, with GlobalData forecasting the resale market will grow from USD 7 billion in 2019 to USD 36 billion in 2024 (or from 2% to 8% market share), a 39% compound annual growth rate (CAGR), compared to the traditional second-hand market expected CAGR of 6%.[iii] Consumers are increasingly likely to shop second-hand or "vintage", driven by the growing awareness of the environmental and social impact of the apparel supply chain.[iv]  For example thredUP states that giving a dress a second life reduces its CO2 equivalent impact by 79%.[v] U.S. consumers are also more open than ever before to buying second-hand – estimates from Global Data's consumer survey show that the percentage of women in the U.S who have bought or are open to buying second-hand  increased from 45% in 2016 to 70% in 2019.iv
Technology is key to the success of the reselling market. eBay, Facebook Marketplace and Gumtree (to name a few) have made selling and buying second-hand items easier than ever before. This peer-to-peer market is thriving, and over the last few years we have seen a wave of e-commerce sites spring up all over the world focusing on second-hand clothes. Today, business is booming in the fashion reselling market.
Two high-profile IPOs in the clothing reselling space since the start of 2021
Poshmark, an online peer-to-peer marketplace for second-hand clothes, which IPO'd in January with an IPO price of USD 42, and ended its first day of trading at USD 101.5, currently has a share price of USD 40 and a valuation of USD 3.1 billion.[vi] Meanwhile, thredUP, a mass market clothes reseller, IPO'd in March with a USD 1.3 billion valuation and today is trading with a valuation of USD 1.4 billion.[vii]
thredUP operates slightly differently to Poshmark and other peer-to-peer resellers, such as Depop in the UK and TheRealReal in the US, a luxury reseller, which also IPO'd in 2019. While the usual operating model is to act as a platform, with sellers responsible for posting their products online and shipping them, with the platform taking a fee from each sale, thredUP aims to make it easier for the seller, as you send your worn clothing to thredUp in a prepaid bag. thredUP then pays you based on the contents and then posts these on-line and sends them to the buyer. The aim is to unlock supply by making the seller experience as easy as possible. thredUP calls it a managed marketplace. This model is more usual in the luxury reselling space, in part because of the pervasiveness of counterfeit products, so third-party authentication is needed to help gain the trust of the buyers.
Across both sides of the Atlantic we are seeing an increasing number of technology-driven businesses providing digital marketplaces to enable peer-to-peer selling, and with it, reinvent the apparel supply chain. On the luxury side, growing companies include TheRealReal, Vestiaire Collective[viii] and Cudoni,[ix] as well FarFetch, a luxury e-commerce site that launched a reselling platform for designer bags in 2019.[x]  Other companies are less focused on luxury, such as Depop in the UK (a favourite amongst fashion influencers looking to offload their barely worn clothing),[xi] Rebelle from Germany[xii] and Vinted, a Lithuanian peer-to-peer platform.[xiii]
Since 2015, we estimate almost USD 3.5 billion of public and private capital has been raised by these fashion focused resellers, of which USD 2.5 billion since 2019. The RealReal, thredUP and Poshmark raised USD 750 million through their recent IPOs – see Figure 1.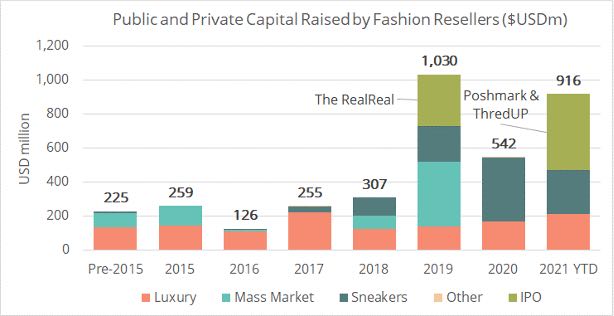 Figure 1: Capital Raised by Fashion Resellers in Recent Years.[1] Source: Crunchbase, Planet Tracker.
Other companies that have raised a significant amount through a variety of funding rounds and could be taken public soon include the sneaker reseller StockX (USD 690 million), the European luxury resale site Vestiaire Collective (USD 476 million) and the European mass market fashion reseller Vinted (USD 261 million).
Brands are also embracing the resale market
In April 2021, Nike announced they will start selling returned sneakers under the Nike Refurbished programme in 15 of their US stores.[xiv] While these are small steps, it marks a huge change in decades of company policy not to acknowledge the presence of Nike in the resale market,[xv] and one can't help but wonder if they have the huge USD 6 billion sneaker resale market in mind.
Other brands like Levi's[xvi]  and H&M-owned Cos have also launched their own resale sites. Cos's platform, Resell,[xvii], [xviii] is available in the U.K. and Germany. Brand-operated platforms like these are attractive to the public, as they can reflect a more typical on‑line experience for the consumer.
Indeed, technology companies like Reflaunt are capitalizing on this trend by offering resale-as-a-service (RaaS) for brands and retailers to offer reselling or recycling mechanisms on their own e-commerce platforms.[xix] Cos are using Reflaunt's technology at Resell.
Resellers are not just working with finished products. There has been a recent trend of start-ups making it easier for brands to buy and sell deadstock materials – fabric that never makes it into clothes at all – using reselling technology. Companies like Queen of Raw and AmoThreads have enabled the sourcing of waste materials to businesses and consumers.[xx]
The problems and future of resale
Resale is certainly here to stay and we expect more brands to actively seek out opportunities, either by partnering with resale sites (like thredUP with Madewell, Alexander McQueen with Vestiaire Collective, or Gucci and The RealReal)xvii or by setting up their own operations like Nike. However, the relationships between reselling sites and the luxury brands can be rocky, with brands cracking down on sites that they believe are selling fake items.[xxi]
Reselling has other downsides. To become a viable option, clothing needs to be made to last, and this is an issue especially in the fast fashion space, where there are often complaints about its durability.
In addition, while it prolongs the length of time clothes are in use, reselling does not solve the end-of-life problem, a continuing challenge when seeking to achieve true circularity in the textiles supply chain.
So, who will be the winners of the resale boom? Will it be brands who absorb the market by launching their own platforms? Or will the new companies win on technology? As fashion brands continue to focus on circularity, we expect this trend to continue to grow.
[1] IPO (initial public offering) value denotes the capital raised from the shares going to the public for the first time.
[i] https://www.greenstrategy.se/circular-fashion-definition/
[ii]https://www.ellenmacarthurfoundation.org/assets/downloads/A-New-Textiles-Economy_Full-Report_Updated_1-12-17.pdf
[iii] From thredUP's 2020 Resale report which can be found here. Estimates come from GlobalData. GlobalData's assessment of the second-hand market is determined through ongoing retailer tracking, official public data, data sharing, store observation, consumers surveys, and secondary sources. These inputs are used by analysts to model and calculate market sizes, channel sizes, and market shares. Market data analysis included in this report was done in April, 2020 and includes the impact of Covid.
[iv] GlobalData Consumer Survey: The consumer data in this report is derived from a consumer survey of 3,500 women. The survey asked them a number of questions about their attitudes towards apparel, second-hand products, and resale products. The sample was designed to be representative of age and income and was also geographically representative. Surveying was undertaken by GlobalData between December 12, 2019 and January 6, 2020.
[v] From thredUP's 2020 Resale report which can be found here. Data from Green Story Inc.
[vi] Valuation based on the share price of $40 per share on April 16th 2021.
[vii] Valuation based on the share price of $15.5 per share on April 16th 2021.
[viii] https://www.vestiairecollective.com/
[ix] https://www.cudoni.com/
[x] https://fashionunited.uk/news/fashion/farfetch-launches-resale-platform-for-designer-bags/
[xi] https://www.depop.com/
[xii] https://www.rebelle.com/en
[xiii] https://tech.eu/features/3655/vinted-profile/ & https://www.vinted.co.uk/
[xiv] https://news.nike.com/news/nike-refurbished-circularity-model
[xv]https://www.glossy.co/rise-of-streetwear/major-sneaker-resellers-share-how-the-market-is-leading-to-the-reinvention-of-retail/
[xvi] https://www.secondhand.levi.com/
[xvii] https://hmgroup.com/news/cos-launches-resell-to-prolong-the-lifespan-of-preloved-clothes/
[xviii] https://www.cosresell.com/women
[xix]https://www.thefashionlaw.com/resale-service-reflaunt-raises-2-7-million-as-brands-start-to-embrace-the-burgeoning-pre-owned-luxury-market/
[xx]https://www.voguebusiness.com/technology/startup-spotlight-queen-of-raw-applies-new-technology-to-old-fabrics
[xxi]https://www.thefashionlaw.com/chanel-files-ugly-suit-against-what-goes-around-comes-around-citing-fakes/

This work is licensed under the Creative Commons Attribution-NonCommercial-ShareAlike 4.0 International License. To view a copy of this license, visit http://creativecommons.org/licenses/by-nc-sa/4.0/  or send a letter to Creative Commons, PO Box 1866, Mountain View, CA 94042, USA.