What's just happened?
Following an international consensus to negotiate a legally binding Global Plastic Pollution Treaty by the end of 20241, the second of five rounds of the Intergovernmental Negotiating Committee (INC-2) took place in Paris last week.2 The original UNEA 5.2 resolution requires an international instrument that 'addresses the full lifecycle of plastic, including its production, design and disposal'3. Prior to the meeting, UNEP released a report 'Turning Off the Tap'4 which disappointed some participants, including us, by largely ignoring plastic production measures and the chemical additives and associated health issues used in plastic manufacturing.
What was achieved?
Prior to the start of INC-2, hopes were high for the Committee to agree a zero draft – i.e., a document, usually full of brackets, that is somewhere between a comprehensive outline and the first draft of the treaty which typically provides the background and issues in an introduction, followed by principles, and then proposed provisions in the rights and obligation section. This was not achieved but there was a mandate from the 169 Member States that the INC Chair should prepare such a draft ahead of INC-3, to be held in Nairobi in November of this year.5 
Notable points for financial institutions
The whole value chain remains within the remit of these negotiations from the plastic resin producers (comprising oil & gas and chemical companies), the container & packaging converters, through to the consumer brands, retailers and ending with the waste industry. However, there is a strong group of Member States (including the US and oil producers) and corporates which want to focus on downstream recycling as the solution and ignore restrictions to production. 135 states are calling for binding global rules, rather than a voluntary agreement, and '94 states have called for the treaty to prioritise bans or phase-outs of problematic polymers, chemicals and high-risk plastic products'6.
Country positions can be gleaned from Member States' contributions. A High Ambition Coalition (HAC) to End Plastic Waste, chaired by Norway and Rwanda, comprises a group of 57 countries which recognises that 'plastic pollution constitutes a planetary crisis' and commits to 'end plastic pollution by 2040'7, 8. ,

However, discussions on plastics did not start in earnest until day 3, as there appeared to be co-ordinated resistance – notably from Brazil, China, Russia and Saudi Arabia – which preferred to debate points of procedure and voting rules – i.e. arguing for consensus voting only – while others argued for the requirement for a two-thirds majority hurdle – namely the Canada, EU, New Zealand, Norway, UK. This difference in opinion was noted and parked, allowing detailed work to begin on day 3.

Many corporates relying on either Member States or industry organisations to represent their interests. For example, the American Chemistry Council (ACC), which lobbies on behalf of the chemical and petrochemical industry, argues for the increase in the 'reuse and recycling of plastics'9. However, some consumer companies, notably Nestlé, PepsiCo and Unilever are asking for a common set of rules to address the full lifecycle of plastics.10
The financing of agreed measures will be crucial in later rounds.

Will there be any production financial controls recommended?

Will toxic releases and associated health concerns be left by sovereign states to litigators?
Will extended producer responsibilities (EPR) hit the bottom lines of the brands and retailers?

The plastic value chain is trading at the lowest equity risk premium compared to any time in the last decade (i.e., perceived risk has fallen). Investors appear focused on the plastic growth story.
The plastic industry has one of the largest risk registers of any sector. Sources of risk include:

Toxic releases

Harmful additives

CO

2

emissions

Marine and terrestrial pollution

Microplastics

Unrecyclable waste

New regulations

Relative to other material sectors, equity markets place the plastic sector on the

lowest

equity risk premium (i.e., perceived as the less risky) when compared to the chemical, construction material, metals & mining, pulp & forestry products sectors.

Within the plastic value chain, equity markets award the highest risk premium (i.e., perceived as the riskiest) the resin producers, the lowest to the consumer brands, with the plastic packaging and container converters bouncing in between these two segments.
What's next?
Submissions to the Secretariat need to be submitted by 15 September 2023 for observers, and a month later for Member States.  No doubt intense lobbying by corporates on the one side – which likely involves oil & gas, chemical, plastic, and consumer goods companies – and civil society on the other. It is the Member States of the UN which will decide on the final treaty contents at the end of 2024, if it runs to schedule.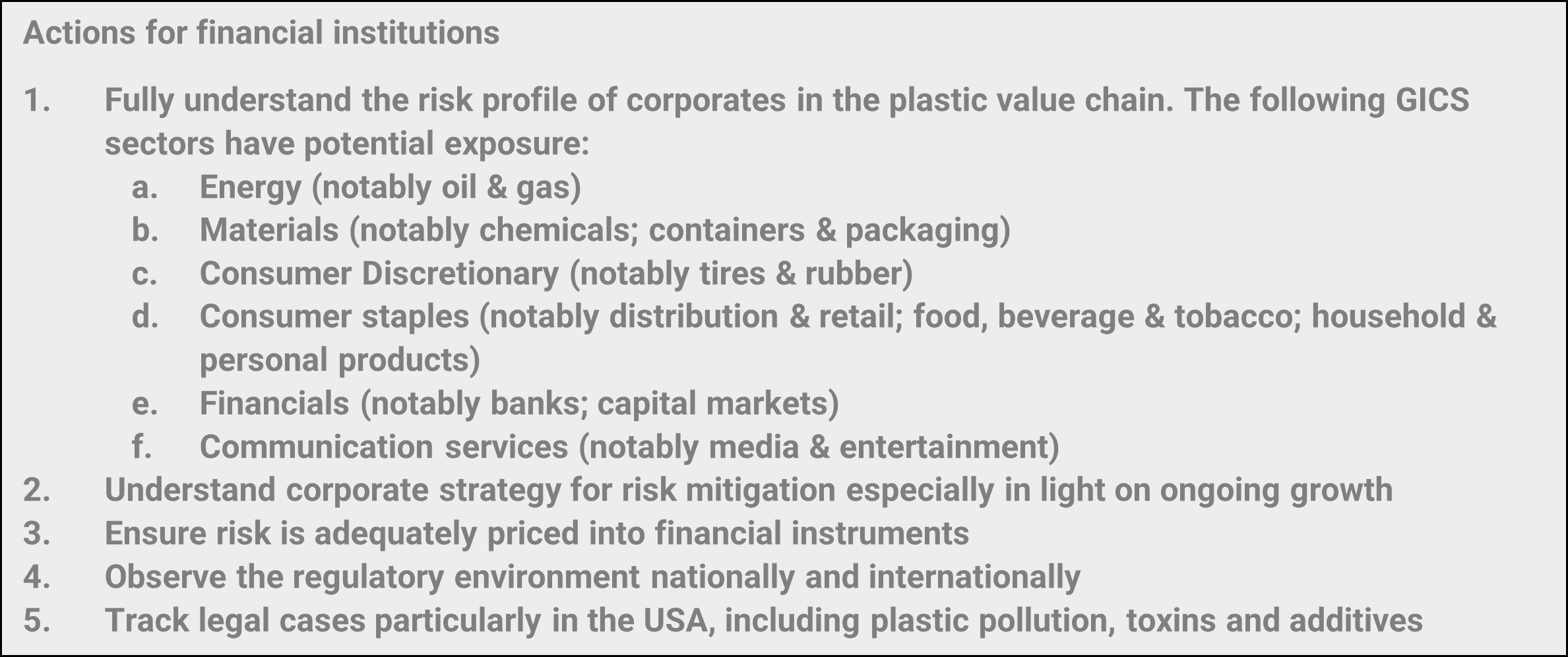 Memorable quotes
"Today, we are extracting Fossil Fuels to produce plastic that we then burn. It's ecological nonsense […] Plastic pollution is a ticking time bomb […] We need to reduce plastic production," – Source: Emmanuel Macron, President of France, at the opening plenary session. Also see Le Monde, 4 June 2023)
"We cannot recycle our way out of this mess. The only solution is the elimination of unnecessary plastics." (Source: Inger Andersen, Executive Director of United Nations Environment Programme (UNEP) at opening plenary session of INC-2).
"The world's eyes are on us once again to make progress and deliver without delay. We only have three more sessions ahead of us." Ms Jyoti Mathur-Filipp, Executive Secretary, INC-Plastics Secretariat (Source: Opening speech in INC-2)
"It is sad to think that nature speaks, and human beings do not listen. When we listen to nature and we act, we can make progress." INC Chair H.E. Mr Gustavo Adolfo Meza-Cuadra Velasquez, quoting Victor Hugo (Source: UNEP press release 3 June 2023)
"Did you know when it rains, it rains plastic? Unlike a regular forecast, this is one we can change." (Source: Tony Worby, Director, Planet Portfolio, Minderoo Foundation) See The Plastic Forecast
1 SDG Knowledge Hub a project by IISD: 'UNEA Launches Negotiation of Plastic Pollution Treaty, Science Body on Chemicals'
2 UNEP Second session of the Intergovernmental Negotiating Committee on Plastic Pollution
3 UNEP Press release 2 March 2022: Historic day in the campaign to beat plastic pollution: Nations commit to develop a legally binding agreement
4 UNEP Report 'Turning off the Tap: How the world can end plastic pollution and create a circular economy' 16 May 2023
5 UNEP Press release 3 June 2023: 'INC Chair to prepare zero draft of international agreement on plastic pollution as Paris negotiations end'
6 UNEP Press release 3 June 2023: 'INC Chair to prepare zero draft of international agreement on plastic pollution as Paris negotiations end'
7 The following G20 countries are not HAC members: Argentina, Brazil, China, India, Indonesia, Italy, Russia, Saudi Arabia, South Africa, Türkiye, and United States.
8 High Ambition Coalition to End Plastic Pollution
9 ACC Statement on EPA's Draft National Strategy to Prevent Plastic Pollution 21 April 2023
10 Financial Times 3 June 2023: 'Nations split on how to cut plastic pollution after week of UN talks